Auto Insurance For Less In West Virginia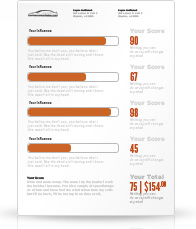 West Virginia is located in the eastern region of the United States, and is nicknamed the "Mountain State." Charleston is the state capital and largest city in West Virginia, followed by Huntington and Parkersburg. Famous for logging and coal mining, West Virginia features an extremely diverse landscape that is inviting to outdoor enthusiasts. Many head to West Virginia to explore the multitude of hunting and fishing areas scattered throughout the state. Additionally, the state claims to have one of the most densely karstic geographies in the country, making it a playground for fans of caving as well as researchers. Those visitors who prefer not brave the elements can be pampered at one of the many lavish area resorts.
Beautiful, natural states like West Virginia are wonderful places to escape to. When traveling, it is vital to be protected at all times. You can't afford not to! With medical bills and legal costs continuing to skyrocket, purchasing quality West Virginia car insurance should be a top priority. Fortunately, you have found the easiest way to get protected. We have included many articles and statistics to demonstrate the importance of being fully insured on the road. We have also included contact information for the most reputable car insurance agents in West Virginia should you require personalized assistance. Getting top quality West Virginia car insurance should not be stressful, so we invite you to get started today.
You owe it to yourself and your family to be fully covered in the unfortunate event of an auto accident. To get your free West Virginia auto insurance quote, start by choosing your state in the dropdown box located above. We will then walk you through the entire process, and are happy to answer any questions you have. Our streamlined process allows you to compare quotes from the top insurance agencies in the nation. There are many different types of policies to accommodate any lifestyle or budget. It is quick, easy, and affordable to become insured. Don't wait any longer to experience the peace of mind that comes from owning quality West Virginia auto insurance!
West Virginia Population Data
At-a-Glance
| | |
| --- | --- |
| 1,855,364 | total population |
| 41 | average citizen age |
| 95 | males per 100 females |
| 0 | number of cities with > 100,000 residents |
| Charleston | largest city in the state |
Vital West Virginia Insurance Facts
When driving in the Mountain State, it is important to be accustomed with the laws of the land. We have made it clear-cut to compare and differentiate West Virginia insurance figures with other states. Please glance through the state averages to determine how the price of your policy matches up to your peers. If your premiums are soaring, why not compare insurance quotes to understand how much you can save?
Average Annual West Virginia Insurance Premium Payment
$1,041
About $86.75/Month. West Virginia ranks as the 41st most expensive state for car insurance in the United States
Is This an At-Fault or No-Fault State?
No-Fault
State Minimum Coverage Requirement
50/100/55
Injury Liability Per Person / Injury Liability Per Accident / Property Damage
*Units in Thousands of Dollars
Estimated Uninsured Population (%)
11%
Or About 204,090 Uninsured Drivers in the State of West Virginia
WV Licensing Rules & Regulations
It is very critical to comply to the licensing regulations and policies in West Virginia to stay away from trouble with law enforcement. Continually be sure your driver license is valid and current. If you are a youthful vehicle operator or know someone who is, then learn and commit to memory the licensing requirements based on age.
Learner's Permit
15 Years
Unrestricted License
17 Years
Renewal Frequency
5 Years
Safety Requirements, Handheld Devices in West Virginia
The odds are good that you utilize a handheld device such as a cellular phone throughout the day. Make sure you are not found breach any safety rules such as text messaging or not wearing a seatbelt in the vehicle. Save yourself time and money by thoroughly complying with the laws on the books in West Virginia.
Seatbelt Offenses
Secondary
Motorcycle Helmets
All Ages
Text-Messaging Banned?
No
West Virginia Impaired Driving Laws
If you are found to be driving intoxicated, your life will become more difficult. From swelling fines to probable jail time, getting a DUI is grave no matter how you observe it. Make sure you have a designated driver or call a taxicab if you participate in consuming alcoholic refreshments.
Financial Penalty Estimate
$100-$500
Minimum License Suspension
12 Days
Maximum Jail Sentence
180 Days