Washington Auto Insurance - Get WA Car Insurance Coverage For Less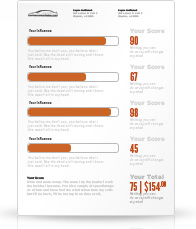 Lush and green with clear, breathable air due to its gloriously rainy and windy weather, Washington is known as the Evergreen State. Almost 60 percent of Washington's residents live in Seattle and the surrounding metropolitan area. Those traveling or residing east of the Cascade Mountain Range experience a drier semi-arid climate. Washington became the forty-second state in 1889 and is the only state named after a US president. Business within the state has been largely shaped by the aircraft sector (Boeing), computer software (Microsoft, Amazon.com, Nintendo), telecommunications (T-Mobile), electronics, biotech, aluminum, lumber, mining, beverages (Starbucks), retail (Nordstrom, Costco), and travel tourism (Alaska Airlines, Expedia). The state also boasts a significant hydroelectric power industry.
The downside to the fresh green climate of Washington State is slick roads, fog and dangerous driving conditions at times. Washington drivers know or quickly find out the necessity of good car insurance to protect them in the event of an accident. The state of Washington takes auto insurance very seriously and if you are caught driving without insurance, you will be subject to a large fine and possible other consequences. This is just another reason to be sure to get auto insurance covering all your vehicles and every driving member of your family. If you have never had auto insurance coverage before and are a new driver, you will find lots of excellent information below to help you get affordable rate quotes as a first-time buyer. If you are new to Washington, use our research tools below for information and to locate a local insurer to take care of all your unique insurance needs. If you have a WA auto insurance policy already, but would like to shop around, that's an excellent idea. Insurers use different formulas to determine rates, so getting multiple auto insurance quotes (conveniently all in one place for you to compare) on our easy-to-use website is a wonderful time saver. Just fill in a few facts about yourself and your car and hit the send button. You will receive several competitive Washington car insurance quotes to choose from.
To help demystify the Washington State car insurance process, we've gathered extensive research on Washington insurance rates for you below. If you like, you can use our research to help you decide on a policy that is right for you. Then just use our handy form to get multiple Washington auto insurance quotes to compare.Should your search become confusing with all the variables involved in car insurance rates and types, never fear, you can save all your quotes and get back to them later. If you have questions or need guidance, our dedicated customer service folks are here to help you. Just call the toll-free phone number located at the top of the page and discuss your insurance needs with one of our highly-trained Washington car insurance specialists. With a complicated purchase like auto insurance, it's great to have research you can depend on and options to consider. And we all know the best way to save money is to shop around, but that can take time, right? Not on this site! We'll help you find and sort through the forest of information so that you can choose your perfect local Washington auto insurance policy, quickly and easily.
Washington Population Data
At-a-Glance
| | |
| --- | --- |
| 6,830,038 | total population |
| 37 | average citizen age |
| 98 | males per 100 females |
| 6 | number of cities with > 100,000 residents |
| Seattle | largest city in the state |
Vital Washington Insurance Facts
In order to make your shopping experience in Washington even easier, we have provided insurance stats and other data. Whether you are a Seattle driver, a resident in Bellevue or anywhere in between, we are confident you will find this information useful!
Average Annual Washington Insurance Premium Payment
$1,437
About $119.75/Month. Washington ranks as the 17th most expensive state for car insurance in the United States
Is This an At-Fault or No-Fault State?
No-Fault
State Minimum Coverage Requirement
25/50/10
Injury Liability Per Person / Injury Liability Per Accident / Property Damage
*Units in Thousands of Dollars
Estimated Uninsured Population (%)
16%
Or About 1,092,806 Uninsured Drivers in the State of Washington
WA Licensing Rules & Regulations
Understanding the renewal period of your driver license is very important in the state of Washington. Don't find yourself in trouble with the law because you forgot to renew on time. Use our handy information presented below to stay current.
Learner's Permit
15 Years
Unrestricted License
17 Years
Renewal Frequency
5 Years
Safety Requirements, Handheld Devices in Washington
Washington has established many different means of promoting safety on the road. Be sure to understand the different laws put in place to reduce injuries and deaths. Wear safety belts and refrain from using handheld devices while driving at all times.
Seatbelt Offenses
Primary
Motorcycle Helmets
All Ages
Text-Messaging Banned?
Yes
Washington Impaired Driving Laws
Driving under the influence of alcohol is not only dangerous, but extremely unwise if you consider all of the consequences that are associated with this reckless behavior. If you decide to drink, make the smart decision to call a cab or rely on a competent designated driver.
Financial Penalty Estimate
$300-$5,000
Minimum License Suspension
90 Days
Maximum Jail Sentence
365 Days