Great Deals On Vermont Auto Insurance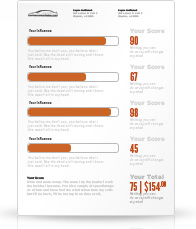 Vermont ranks as the fifth-smallest state in the nation in terms of total area, but what the state lacks in size it makes up for in character and history. The state is the leading producer of maple syrup in the United States and one of only 17 U.S. states to have once operated under its own sovereign government. Vermont also holds the honor of becoming the first U.S. state to join the union outside of the thirteen original colonies. While Vermont is the only one of the New England States to have no Atlantic-Ocean coastline, the breathtaking Lake Champlain constitutes 50 percent of the state's western border. Despite its modest population of 621,760, Vermont is home to several thriving, attractive cities, including Montpelier and Burlington.
Of course, many of Vermont's over 600,000 residents are drivers in need of a Vermont car insurance policy. As you will read below, Vermont car insurance laws are some of the most stringent in the country, so a policy is worth every penny if you want to drive legally. If you need a Vermont auto insurance policy, this is the place to shop. With one click, you can request free Vermont car insurance quotes on the policy of your choosing. All the research you will need to make an informed decision is done for you and presented on this page and in concise summaries with your complimentary Vermont auto insurance quotes. You will see Vermont car insurance offers that are relevant to your specific ZIP code and other demographics. Every one of the companies that provides quotes on Vermont auto insurance is authorized to issue policies in the state and has a wealth of experience doing so.
Finding Vermont car insurance information does not have to be impossible difficult or time-consuming to find online. Everything you need to find a quality, affordable Vermont auto insurance policy is at your fingertips when you take advantage of our no-cost, no-obligation quote system. To begin, simply select your county or city from the dropdown menu below, and we will send you on your way to the most competitive quotes on the Internet. Also feel free to contact us at the 1-800 number provided above if you need assistance at any point.
Vermont Population Data
At-a-Glance
| | |
| --- | --- |
| 626,431 | total population |
| 41 | average citizen age |
| 97 | males per 100 females |
| 0 | number of cities with > 100,000 residents |
| Burlington | largest city in the state |
Vital Vermont Insurance Facts
Understanding the ins and outs of auto insurance in Vermont is most important for all drivers. Feel free to weigh your premiums in opposition to the national average and see how The Green Mountain State is positioned in terms of cost.
Average Annual Vermont Insurance Premium Payment
$1,080
About $90.00/Month. Vermont ranks as the 38th most expensive state for car insurance in the United States
Is This an At-Fault or No-Fault State?
No-Fault
State Minimum Coverage Requirement
25/50/20
Injury Liability Per Person / Injury Liability Per Accident / Property Damage
*Units in Thousands of Dollars
Estimated Uninsured Population (%)
7%
Or About 43,850 Uninsured Drivers in the State of Vermont
VT Licensing Rules & Regulations
All states vary in terms of the rules and regulations related with operating a motor vehicle. Make sure you stick to the licensing standards of Vermont to stay out of a mess if pulled over or cited.
Learner's Permit
15 Years
Unrestricted License
16.5 Years
Renewal Frequency
4 Years
Safety Requirements, Handheld Devices in Vermont
Safe driving is now a hot button topic throughout most of the nation as handheld devices, such as cell phones, continue to increase in popularity. Make sure you appreciate the laws associated with handheld devices on top of the general safety practices.
Seatbelt Offenses
Primary
Motorcycle Helmets
All Ages
Text-Messaging Banned?
Yes
Vermont Impaired Driving Laws
Driving under the influence of alcohol or drugs can cost you substantially. In addition to fines and potential jail time, your auto insurance rate is just about guaranteed to take a leap. Be absolutely certain you know the legal limits before attempting to drive.
Financial Penalty Estimate
$750-$0
Minimum License Suspension
90 Days
Maximum Jail Sentence
0 Days