Personalized Utah Car Insurance Quotes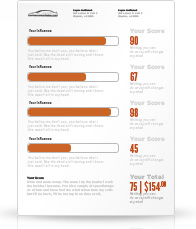 Utah is a beautiful state filled with bluffs, deserts, mountains and plains. It is also home to the Great Salt Lake, the only large body of salt water in the country, aside from the oceans. Utah's name comes from the name of the Ute tribe that once inhabited it. The state has a rich history of pioneer travelers, explorers and even the Spanish conquistadors hiding massive treasures there. For many years, people have taken metal detectors into the caves and hills in search of the chests of dubloons that are said to be hidden there. The famous Mormon Settlement and Mormon Trail were located in Utah. Although settlers lived there, the territory belonged to Mexico until 1848, when it was officially signed over to the United States after the Mexican-American War. Today it is a great place to learn about Mormon history, ski or see the beautiful scenery.
With so many interesting places to see, Utah residents have plenty of options for entertainment. Driving is a necessity in this sparsely-populated state, so a good Utah auto insurance policy is also important. Although the word desert is often portrayed by cacti and heat, Utah is quite the opposite in the winter. Even desert regions reach low temperatures and see snow. Snow and ice in the winter are one of the leading causes of accidents. Heavy traffic in the larger cities also is a source for many auto accidents. Most accidents in the cities happen during the typical rush hour periods. Driving in the cities and in the open land outside of them is inevitable. Having a good Utah car insurance policy will ensure that all of these accidents will not result in excessive expense to the car owner.
Everyone is concerned about the cost of auto insurance and whether or not it is the best price for the coverage they need. Our job is to do that for you. We save you the hassle of independent research and wasted hours on the phone. Simply use our search tool on this page for a free Utah car insurance quote. We want you to find the best policy and price for the coverage you or your family needs. With the information on our site and the help of our team, you can learn everything you need to know about Utah car insurance and providers. Simply select your county from the drop-down menu for a free Utah auto insurance quote. A good insurance policy will give peace of mind, which is worth far more than a monthly premium payment.
Utah Population Data
At-a-Glance
| | |
| --- | --- |
| 2,817,222 | total population |
| 29 | average citizen age |
| 100 | males per 100 females |
| 4 | number of cities with > 100,000 residents |
| Salt Lake City | largest city in the state |
Vital Utah Insurance Facts
When driving in Utah, be certain you have a strong grip on the requirements and regulations concerning auto insurance. You may prevent pain down the road by taking a few minutes to peruse our compilation of local insurance specifics.
Average Annual Utah Insurance Premium Payment
$1,200
About $100.00/Month. Utah ranks as the 32nd most expensive state for car insurance in the United States
Is This an At-Fault or No-Fault State?
No-Fault
State Minimum Coverage Requirement
25/65/15
Injury Liability Per Person / Injury Liability Per Accident / Property Damage
*Units in Thousands of Dollars
Estimated Uninsured Population (%)
8%
Or About 225,378 Uninsured Drivers in the State of Utah
UT Licensing Rules & Regulations
Every state varies in the matter of licensing rules and regulations. Compare and contrast Utah with further states to look into where it sits in the range. Be certain to adhere to the laws of the land whilst operating a vehicle in this state.
Learner's Permit
15 Years
Unrestricted License
17 Years
Renewal Frequency
5 Years
Safety Requirements, Handheld Devices in Utah
Numerous drivers on the road these days are preoccupied by handheld devices and the impulse to continually communicate through text messages. Definitely know the consequences of using a cellular phone in Utah and be certain to make use of all of the obligatory safety requirements such as helmets and seatbelts when appropriate.
Seatbelt Offenses
Secondary
Motorcycle Helmets
17 and Under
Text-Messaging Banned?
Yes
Utah Impaired Driving Laws
You have witnessed the alarming DUI advertisements on television. Make sure to completely understand Utah's impaired driving laws and penalties before putting yourself in the situation to be cited. Save yourself time and money by complying with all of the specific policies established to protect drivers.
Financial Penalty Estimate
$1,295-$1,850
Minimum License Suspension
90 Days
Maximum Jail Sentence
180 Days