Personalized Texas Auto Insurance Quotes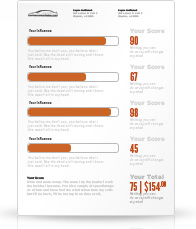 Texas is the second largest state in the country in terms of population density and land mass. What separates Texas from other states is the diversity in geographical landscapes. Stunning ocean views compliment the rolling grasslands while rugged desert scenery in the southwest is in sharp contrast to the lush forests speckling the state. While Texas has deep roots in the oil and agricultural industries, major cities such as Dallas and Houston are at the forefront of technological and medical advancements. In a state the size of Texas, drivers can expect to spend a lot of time on the road. This makes having quality auto insurance coverage a necessity.
We at carinsurancerates.com have included many informative articles and fascinating statistics that will assist you in your search for the right Texas auto insurance. If you want an instant Texas car insurance quote, just use the convenient form located at the top of the page. It only takes a few moments and your free personalized Texas auto insurance quote will be delivered to you. We have partnered with many of the top auto insurance agencies in the nation to help you choose a policy that fits your unique lifestyle. Don't let the challenges of everyday life get in the way of protecting yourself and your family with quality car insurance.
In addition to featuring essential Texas car insurance statistics and other important information, we have included lists of businesses and organizations related to Texas auto insurance. Whether you are looking for the nearest MVD in your area or a reputable local insurance agent, we have done the research for you! Additionally, we encourage you to look at the local information and statistics provided by finding your city at the bottom of the page. We hope to provide you with more information than you could ever need and make finding the best fit for auto insurance in Texas as easy as possible!
Texas Population Data
At-a-Glance
| | |
| --- | --- |
| 25,674,681 | total population |
| 33 | average citizen age |
| 97 | males per 100 females |
| 29 | number of cities with > 100,000 residents |
| Houston | largest city in the state |
Vital Texas Insurance Facts
Building and maintaining a strong knowledge of Texas insurance facts can prove priceless when buying new car insurance or just simply comparing your policy to other drivers' policies. Guaranteeing you are protected adequately will give you a clear conscience while driving.
Average Annual Texas Insurance Premium Payment
$1,255
About $104.58/Month. Texas ranks as the 22nd most expensive state for car insurance in the United States
Is This an At-Fault or No-Fault State?
No-Fault
State Minimum Coverage Requirement
30/60/25
Injury Liability Per Person / Injury Liability Per Accident / Property Damage
*Units in Thousands of Dollars
Estimated Uninsured Population (%)
15%
Or About 3,851,202 Uninsured Drivers in the State of Texas
TX Licensing Rules & Regulations
To continue to adhere with current licensing standards in Texas, you should be attentive of the renewal frequency established. Operating a vehicle on an expired registration may cause you needless anguish. Be sure to stay current on the newest standards for your particular locality, whether that is Houston or Huntsville.
Learner's Permit
15 Years
Unrestricted License
17 Years
Renewal Frequency
6 Years
Safety Requirements, Handheld Devices in Texas
It is certainly in your best interest to comply with the safety regulations the authorities in Texas and your local community, like San Antonio or San Angelo, have established. Not only will you save money as well as time, you will guard yourself and other drivers simultaneously. Recalling to always wear a seatbelt and refraining from using a handheld device such as a cellular phone will reduce your chances of getting into a car accident.
Seatbelt Offenses
Primary
Motorcycle Helmets
20 and Under
Text-Messaging Banned?
No
Texas Impaired Driving Laws
There is little lenience towards Texas drivers who drive a motor vehicle while under the influence of drugs or alcohol. DWI punishments continue to become more severe as time elapses, so it is imperative to be conforming when driving. To steer clear of a penalty, make clear in your mind you are familiar with the laws and regulations for the state of Texas.
Financial Penalty Estimate
$2,000-$0
Minimum License Suspension
12 Days
Maximum Jail Sentence
180 Days