You Deserve The Most Affordable Auto Insurance In South Carolina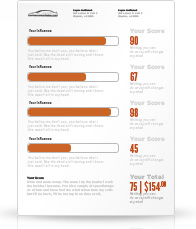 With so many things to see and do, it is no wonder the official South Carolina tourism site proudly proclaims the state as one that is "made for vacation." From the pristine views of Myrtle Beach to the natural beauty of the numerous state parks, South Carolina is ripe with adventure for all. The state is also known as a playground to golfers, featuring over 360 top rated golf courses to challenge all levels. In fact, the state is home to 11 out of the 100 "Top Public Courses in America" (ranked by Golf Digest). Not to be outdone, the delectable dining options are seemingly endless, so be prepared to be wowed (and slightly larger when you leave).
When visiting South Carolina, it is important to be protected at all times. To fully enjoy your experience, you should make sure you have a sufficient level of South Carolina auto insurance. If you are in the middle of shopping, you have come to the right place! We have delivered countless South Carolina car insurance quotes to visitors like you! You can be practicing all the right rules and courtesies of the road, but that doesn't mean your fellow drivers are doing the same. This is why we have included articles and statistics to demonstrate how important it is to own quality South Carolina car insurance.
If you require personalized assistance, we have included the contact information for reputable South Carolina car insurance agents in your area. All you need to do is locate your county in the dropdown menu below, and then choose your city. Need something quicker? We encourage you to join the many who have received their free South Carolina auto insurance quote! Don't wait any longer to get the protection you deserve. If you have any questions, we encourage you to call us at the number located at the top of the page. Thank you for choosing carinsurancerates.com to assist in all aspects of finding quality South Carolina car insurance!
South Carolina Population Data
At-a-Glance
| | |
| --- | --- |
| 4,679,230 | total population |
| 38 | average citizen age |
| 94 | males per 100 females |
| 2 | number of cities with > 100,000 residents |
| Columbia | largest city in the state |
Vital South Carolina Insurance Facts
We have made it effortless to browse relevant insurance statistics and facts for the State of South Carolina. This may save you a bunch of time and money when estimating your current insurance policy or determining to buy a new one.
Average Annual South Carolina Insurance Premium Payment
$1,362
About $113.50/Month. South Carolina ranks as the 18th most expensive state for car insurance in the United States
Is This an At-Fault or No-Fault State?
No-Fault
State Minimum Coverage Requirement
25/50/25
Injury Liability Per Person / Injury Liability Per Accident / Property Damage
*Units in Thousands of Dollars
Estimated Uninsured Population (%)
11%
Or About 514,715 Uninsured Drivers in the State of South Carolina
SC Licensing Rules & Regulations
Even if you are an adult driver or a teen looking forward to driving solo, the licensing rules of South Carolina will influence you in one way or another. We embolden you to become familiar with the rules and regulations before operating a motor vehicle in the state.
Learner's Permit
15 Years
Unrestricted License
16.5 Years
Renewal Frequency
10 Years
Safety Requirements, Handheld Devices in South Carolina
As the majority of people know, tools such as cellular phones can be divert attention from drivers. Individual states have unique laws concerning safety requirements and handheld device usage while driving. Make sure you are familiar with South Carolina's codes before driving,
Seatbelt Offenses
Secondary
Motorcycle Helmets
20 and Under
Text-Messaging Banned?
No
South Carolina Impaired Driving Laws
If you drink and drive, the consequences could be catastrophic. We have assembled a table of customary (but subject to change) penalties and fines for being caught under the influence while operating a moving vehicle in The Ocean State. Keep aware of the standards established to lessen your chances of being apprehended.
Financial Penalty Estimate
$400-$0
Minimum License Suspension
180 Days
Maximum Jail Sentence
30 Days