Car Insurance Quotes Customized For Montana Resident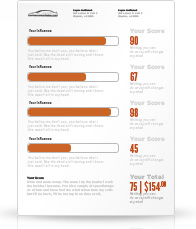 Montana is a western state that is filled with mountains and beautiful scenery. Its name was derived from the Spanish word "montana," meaning "mountain." Montana is often called Big Sky Country because of the wide-open space in nearly every location. While it is the fourth largest state, it ranks 44th in population. It is also called the Treasure State because of its rich natural resources. All of the land in Montana located east of the Continental Divide was part of the Louisiana Purchase, which took place in 1803. Montana became one of the US Territories in the 1860s when copper and gold were found there. In 1889, after the arrival of three different railroads, Montana officially became a state. In 1904, the Homestead Act increased the free amount of land granted to each family from 160 to 320 acres, drawing thousands of new settlers.
The land remains wide open today, as most inexperienced settlers could not farm wheat or lost their homes and farms during the Great Depression. Wheat and tourism have been the two leading sources of revenue for the state. At one time, Montana's speed limit signs only suggested a "reasonable and prudent" speed. That changed in 1999; today there are speed limit signs with numbers on every road. Since then, the speed limit is enforced, even in areas where there is nothing but wide-open road. Travelers and residents tend to speed, so it is almost certain at some time a highway patrol officer will stop you. Just as every other state does, Montana requires its drivers to carry insurance. A good Montana car insurance policy will protect you not only from extensive fines when getting
pulled over, but also from the other unexpected accidents or acts of nature that may happen. Montana is home to many large wildlife and harsh winters. These two factors play a key role in the amount of vehicle damage that is seen each year. Driving without a solid Montana auto insurance policy in these situations could result in having to pay out of pocket for all expenses - or worse, a new vehicle. Don't run the risk of draining a savings account or going into debt when the unexpected happens. Protect yourself and loved ones with full auto insurance. We are happy to provide you with a free Montana auto insurance quote. Simply select your county of residence in the menu below and view all the helpful information you will need. This free Montana car insurance quote will also give you the choice of top insurance providers.
Montana Population Data
At-a-Glance
| | |
| --- | --- |
| 998,199 | total population |
| 39 | average citizen age |
| 99 | males per 100 females |
| 1 | number of cities with > 100,000 residents |
| Billings | largest city in the state |
Vital Montana Insurance Facts
Have you ever wanted to see where Montana stands among the 50 states when it comes to driving laws and regulations? We have made it easy for you to compare and contrast with other states. We recommend that you take note of relevant vehicle laws to ensure you are in compliance. This will save you an exorbitant amount of time and money.
Average Annual Montana Insurance Premium Payment
$1,222
About $101.83/Month. Montana ranks as the 27th most expensive state for car insurance in the United States
Is This an At-Fault or No-Fault State?
No-Fault
State Minimum Coverage Requirement
25/50/10
Injury Liability Per Person / Injury Liability Per Accident / Property Damage
*Units in Thousands of Dollars
Estimated Uninsured Population (%)
11%
Or About 109,802 Uninsured Drivers in the State of Montana
MT Licensing Rules & Regulations
When it comes to licensing rules in the state of Montana, it is important to know the renewal frequencies to stay valid. Additionally, younger drivers will have a vested interest in knowing the age restrictions of operating a vehicle.
Learner's Permit
14.5 Years
Unrestricted License
16 Years
Renewal Frequency
8 Years
Safety Requirements, Handheld Devices in Montana
A responsible driver takes pride in obeying traffic laws at all times when driving in Montana. We have included some of the prominent requirements for operating a vehicle to make it easier for you to adhere to them.
Seatbelt Offenses
Secondary
Motorcycle Helmets
17 and Under
Text-Messaging Banned?
No
Montana Impaired Driving Laws
Driving under the influence will have an extremely adverse affect on your future. Every state has adopted stricter legal limits for driving intoxicated. We encourage you to take note of Montana's DUI information and avoid drinking and driving.
Financial Penalty Estimate
$100-$500
Minimum License Suspension
6 Days
Maximum Jail Sentence
60 Days