Find Minnesota Car Insurance For Less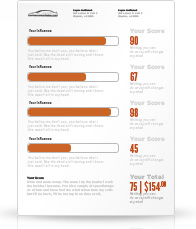 Minnesota's official nickname is the North Star State, which is fitting because Minnesota is the northernmost of the contiguous 48 states. Minnesota is the 12th largest state in the U.S. and ranks 26th in population. 30% of the state is still forested, including the North Woods region, where forestry and mining are major industries. Minnesota produces about 75% of the iron ore mined in the United States. Sometimes called the Land of 10,000 Lakes, Minnesota actually has over 11,000 lakes and numerous rivers and streams. The greatest river in North America, the Mississippi, has its headwaters in Minnesota. Saint Paul is the state capitol, and Minneapolis is the largest city in the state. Together they form the Twin Cities, the state's largest urban area.
Minnesota has a continental climate pattern, with very cold winters and warm to hot summers. The record low temperature in the state was -60F, the record high 114F. Driving conditions in Minnesota can be difficult. Congested urban streets in the Twin Cities and twisting rural roads on the western prairie, or in the North Woods, pose different kinds of hazards. In winter the harsh weather causes its own challenges, including sleet, icy or snow-packed roads, and poor visibility. All of this means that having the right Minnesota car insurance is vital. Adequate insurance is your only protection against the financial burden of high medical costs, or property loss, which can be caused by auto accidents.
It is important that you find Minnesota auto insurance that fits your particular needs and situation. That might be the legal minimum, or full coverage, or something in between. Whatever your needs, having the right insurance will bring you a great sense of security, so don't wait to make sure you are properly covered. This page has all the resources needed, from information about the legally required minimum coverage to Minnesota auto insurance quotes for different communities. Use the information here to get started with your Minnesota car insurance quotes so that you can have the peace of mind that comes from being well protected.
Minnesota Population Data
At-a-Glance
| | |
| --- | --- |
| 5,344,861 | total population |
| 37 | average citizen age |
| 98 | males per 100 females |
| 3 | number of cities with > 100,000 residents |
| Minneapolis | largest city in the state |
Vital Minnesota Insurance Facts
You will find a summary of key facts and statistics about car insurance in Minnesota below. Every state has unique factors that influence auto insurance pricing. You can guarantee that the harsh winters in MN influence these statistics.
Average Annual Minnesota Insurance Premium Payment
$1,205
About $100.42/Month. Minnesota ranks as the 30th most expensive state for car insurance in the United States
Is This an At-Fault or No-Fault State?
No-Fault
State Minimum Coverage Requirement
30/60/10
Injury Liability Per Person / Injury Liability Per Accident / Property Damage
*Units in Thousands of Dollars
Estimated Uninsured Population (%)
13%
Or About 694,832 Uninsured Drivers in the State of Minnesota
MN Licensing Rules & Regulations
Getting an auto driver license varies widely from state to state. Familiarize yourself with Minnesota rules and regulations so you can ensure you get licensed and stay licensed.
Learner's Permit
15 Years
Unrestricted License
16.5 Years
Renewal Frequency
4 Years
Safety Requirements, Handheld Devices in Minnesota
Are you required to wear a seatbelt in Minnesota? Are your passengers? Find important information about MN state-regulated safety requirements. Please keep in mind that certain municipalities may have rules that are more stringent than state rules. Mobile phone usage in particular has been banned by several municipalities in the state of Minnesota. Drive with caution.
Seatbelt Offenses
Primary
Motorcycle Helmets
17 and Under
Text-Messaging Banned?
Yes
Minnesota Impaired Driving Laws
Minnesota and other states in the region have begun to pass harsher sentences for drivers caught operating a vehicle under the influence of alcohol or other condition altering substances. Find out about MN laws below.
Financial Penalty Estimate
$1,000-$0
Minimum License Suspension
90 Days
Maximum Jail Sentence
90 Days