Medical Payments Coverage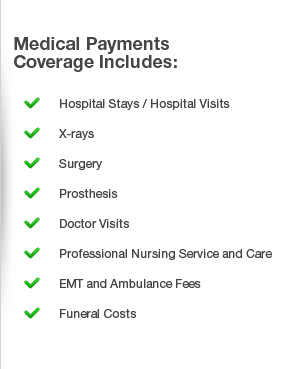 While medical coverage is often considered an "optional" coverage, that description is actually a misnomer in most cases. The average policyholder often refuses medical payments coverage because he/she has a strong health insurance plan through an employer or independently. In reality, medical coverage auto insurance was designed to complement, not usurp, standard medical plans. Even if you have the Cadillac of medical plans, you still might have significant deductibles, co-payments, or co-insurance that would make a car accident a substantial financial burden. Medical coverage has the ability to minimize that burden and more.
How Medical Payments Coverage Works
With most auto insurance policies, medical payments coverage is available in denominations of $1,000, $5,000, $10,000, $25,000, $50,000, and $100,000. What most policyholders don't realize, though, is that medical payments insurance covers so much more than just the injuries of the insured driver. In fact, medical coverage will pay for the injuries of the passengers of the insured vehicle, the injuries of the insured driver of another vehicle, and the injuries of the policyholder or the policyholder's family members in the event they are hit by a car. Medical payments is incredibly versatile and costs astonishingly little for the amount of protection it offers. With most providers, medical coverage costs only a few additional dollars per month to maintain.
What Medical Payments Covers
Medical coverage is to be distinguished from personal injury protection (PIP), which is occasionally required by law and also includes lost wages in its potential benefits. Medical payments is usually optional and pays only for the medical expenses of the policyholder, the policyholder's family members, and/or the passengers in the event of a covered accident. Typical expenses covered by medical payments insurance include doctor visits, hospital stays, X-rays, surgeries, ambulance costs, nursing care, prosthetic expenses, funeral costs, and more. Again, even if you have a health insurance policy that will cover these losses, medical payments can help you defray the cost of deductibles and co-insurance.
Do You Need Medical Coverage?
If you have a solid health insurance plan, you probably do not need a great deal of medical coverage on your auto policy, but that is not to say you don't need it at all. Depending on your deductible, co-payments, and co-insurance, you may be well-advised to add medical coverage to your policy for a few additional dollars to help you cover these out-of-pocket expenses in the event you or your passengers are injured in an accident. Remember that medical payments coverage applies regardless of fault, so you receive the benefit even if you are found legally responsible for the accident.