Massachusetts Car Insurance - Find Massachusetts Auto Insurance Quotes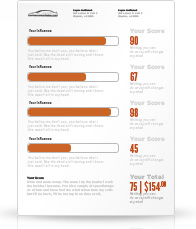 Massachusetts holds enormous historical significance for its momentous contributions to the American Revolution. Its capital city, Boston, is referred to as the "Cradle of Liberty" for the key events that occurred there and eventually spawned the colonies' independence from Great Britain. Although Massachusetts is the sixth-smallest state in nation, it is the 15th most populous, with the majority of its 6.6 million people living in the Boston metropolitan area. Home to several of the country's finest universities, Massachusetts also has the third-highest GDP per capita and the sixth-highest median income. In 2009, Massachusetts was ranked as the third-healthiest state in the country as well.
All of the aforementioned characteristics make Massachusetts an interesting and unique state. Massachusetts auto insurance laws also set the state apart from the rest of the country. Drivers must carry several types of Massachusetts car insurance in order to comply with state law. You can read more about the kind of policy you need in the section below. If you are a resident and in the market for a new policy, this is the place to do your shopping. In addition to all the research available on this page, you will also find access to no-cost Massachusetts car insurance quotes from the nation's best providers. You can read up on your state's laws, research carriers in our review section, and then request quotes through a process that takes only a few minutes.
To retrieve your free Massachusetts auto insurance quotes, simply select your city or county from the dropdown menu at the bottom of this page. You will see Massachusetts car insurance premiums for the policy you need from four to five different carriers. All the information you need to compare policies and prices accurately is provided for you in a side-by-side, user-friendly format. These quotes involve no obligation; you are free to pursue the offer with the insurer or save your Massachusetts car insurance quotes for later. Get started now to see the prices and coverage our service providers can offer you. If you need assistance along the way, don't hesitate to contact us using the toll-free number above.
Massachusetts Population Data
At-a-Glance
| | |
| --- | --- |
| 6,587,536 | total population |
| 39 | average citizen age |
| 94 | males per 100 females |
| 5 | number of cities with > 100,000 residents |
| Boston | largest city in the state |
Vital Massachusetts Insurance Facts
Massachusetts drivers are encouraged to review the following information in order to have a stronger knowledge on different aspects of auto insurance and state laws. You can save money by understanding the average policy cost in the state. If you feel you are paying too much compared to the average driver, feel free to compare quotes by beginning the form on this page.
Average Annual Massachusetts Insurance Premium Payment
$1,032
About $86.00/Month. Massachusetts ranks as the 43rd most expensive state for car insurance in the United States
Is This an At-Fault or No-Fault State?
No-Fault
State Minimum Coverage Requirement
20/40/5
Injury Liability Per Person / Injury Liability Per Accident / Property Damage
*Units in Thousands of Dollars
Estimated Uninsured Population (%)
13%
Or About 856,380 Uninsured Drivers in the State of Massachusetts
MS Licensing Rules & Regulations
It does not matter in the slightest how long you have been driving, it is always a good idea to review licensing regulations to ensure you are compliant. Make the effort to keep up with renewing your license to avoid fines and penalties.
Learner's Permit
16 Years
Unrestricted License
18 Years
Renewal Frequency
5 Years
Safety Requirements, Handheld Devices in Massachusetts
Wearing a seatbelt and refraining from using cell phones and other handheld electronics while operating a vehicle are just a few of the ways drivers can minimize accidents and incidents on the road. Make smart decisions while driving and always follow the specific laws of the locality listed below.
Seatbelt Offenses
Secondary
Motorcycle Helmets
All Ages
Text-Messaging Banned?
Yes
Massachusetts Impaired Driving Laws
Catchy DUI enforcement slogans only go so far when it comes to keeping impaired drivers off the road. Harsh penalties, fines and jail terms await those who operate a vehicle while under the influence of drugs or alcohol. Avoid these punishments by utilizing a designated driver or cab service if drinking away from home.
Financial Penalty Estimate
$500-$5,000
Minimum License Suspension
12 Days
Maximum Jail Sentence
900 Days