Competitive Maryland Auto Insurance Rates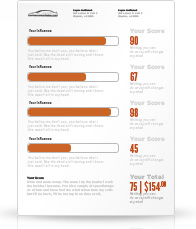 Maryland has been referred to as "America in Miniature" due to the fact that so many United States staples are represented within the borders of the relatively small state. Also, the region is one that is tremendously ethnically diverse and inclusive. Maryland is a productive state, boasting the highest median household income of the country and is a leader in research and development. Baltimore is the largest area in the state in terms of population, followed by Columbia then Silver Spring. The ecology of Maryland is one that is also unique and diverse, due to the proximity in the east coast. The tidal wetlands of the Chesapeake Bay represent the largest estuary in the country and make for a fascinating environment. With so much natural beauty, it is no wonder the state continues to grow, welcoming many from various different backgrounds.
We have included many articles and statistics to assist you in your search for the best in Maryland car insurance. Whether you are looking for more information about the minimum liability requirements or the location of a Maryland Department of Motor Vehicles, we have you covered! Buying quality Maryland car insurance doesn't have to be difficult, as we have done the necessary research for you. We have delivered countless free Maryland car insurance quotes, and we encourage you to get yours today! Simply use the form located at the top of the page, and you are well on your way to being protected on the roads. As court fees and medical costs continue to skyrocket, owning quality Maryland car insurance is a no-brainer! Don't wait any longer to experience the peace of mind that comes from knowing you are covered by the best Maryland auto insurance available. Whether you live in Baltimore, Dundalk, Columbia or anywhere in between, it pays to be protected.
In addition to our articles and statistics, we have included the contact information for local Maryland car insurance agents. All you have to do is locate your county in the dropdown menu below, and then choose your city. These Maryland auto insurance agents would be happy to assist you in finding great insurance at a reasonable price. Looking for something quicker? You can get your free Maryland auto insurance quote in no time at all! It just takes a little information, and you can get information from a reputable nationwide insurance company. You owe it to yourself and your family to be protected on the roads at all time. With so many resources and such a high level of customer service, getting the best Maryland car insurance has never been easier!
Maryland Population Data
At-a-Glance
| | |
| --- | --- |
| 5,828,289 | total population |
| 38 | average citizen age |
| 93 | males per 100 females |
| 1 | number of cities with > 100,000 residents |
| Baltimore | largest city in the state |
Vital Maryland Insurance Facts
Maryland drivers who want to save money on car insurance and obey the laws of the land are encouraged to review our in-depth insurance fact guide for the state. The data below makes it easy to compare and contrast coverage details with other localities.
Average Annual Maryland Insurance Premium Payment
$1,936
About $161.33/Month. Maryland ranks as the 6th most expensive state for car insurance in the United States
Is This an At-Fault or No-Fault State?
No-Fault
State Minimum Coverage Requirement
30/60/15
Injury Liability Per Person / Injury Liability Per Accident / Property Damage
*Units in Thousands of Dollars
Estimated Uninsured Population (%)
19%
Or About 1,107,375 Uninsured Drivers in the State of Maryland
MD Licensing Rules & Regulations
It does not matter how long you have been driving, it is always a good idea to review licensing regulations to ensure you are compliant. Make the effort to keep up with renewing your license to avoid fines and penalties.
Learner's Permit
15.75 Years
Unrestricted License
18 Years
Renewal Frequency
5 Years
Safety Requirements, Handheld Devices in Maryland
Wearing a seatbelt and refraining from using cell phones and other handheld electronics while operating a vehicle are just a few of the ways drivers can minimize accidents and incidents on the road. Make smart decisions while driving and always follow the specific laws of the locality listed below.
Seatbelt Offenses
Primary
Motorcycle Helmets
All Ages
Text-Messaging Banned?
Yes
Maryland Impaired Driving Laws
Catchy slogans such as "drive hammered, get nailed" only go so far when it comes to keeping impaired drivers off the road. Harsh penalties, fines and jail terms await those who operate a vehicle while under the influence of drugs or alcohol. Avoid these punishments by utilizing a designated driver or cab service if drinking away from home.
Financial Penalty Estimate
$1,000-$0
Minimum License Suspension
60 Days
Maximum Jail Sentence
60 Days