Liability Car Insurance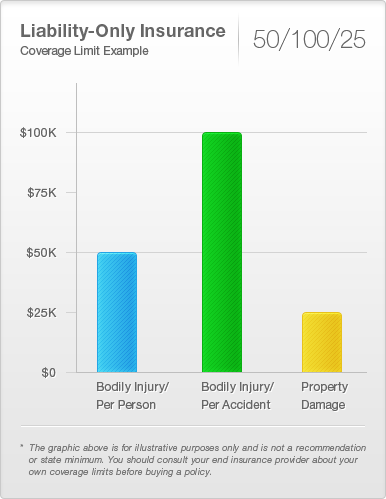 Because every state requires liability coverage to some extent by law, it is an indispensable component of any standard auto policy. Aside from allowing you to drive legally, auto liability insurance, more importantly, pays for the bodily injury and property damage your car does to the other parties involved in an at-fault accident. The coverage does not pay for damage to your own vehicle, only to those of others. Most policies will also provide legal counsel to policyholders who are sued following an accident. Every policy will include auto liability insurance by default, but as you'll find in what follows, policyholders still have a great deal of control over how they wish to structure the liability portion of their coverage.
What Is Liability Insurance?
When an accident is your fault, you will be held legally and financially responsible for any damage you do to property or person. The other parties involved in the collision have the right to file suit against you to recover damages stemming from the accident. With car liability insurance, however, your provider will reimburse the aggrieved parties for their medical expenses, repair costs, and so forth. Your insurer will pay up to the coverage limits you have selected, which is why this portion of your policy may also be referred to as limited liability coverage.
Selecting Auto Liability Insurance Coverage Limits
The coverage limits on liability protection are typically described with a series of three numbers, such as 50/100/25. The first number limits the amount of the benefit paid for bodily injury per person in an accident ($50,000 in the example), the second number limits the total amount paid per accident for bodily injuries ($100,000 in this case), and the final number limits the amount paid for property damage ($25,000 in the example).
In setting these limits on your liability insurance coverage, your first point of reference should be your state's mandatory minimums. Typically, agents and carriers automatically take these figures into account when offering you liability insurance quotes on a prospective policy. However, it's important to remember that purchasing only the minimum liability coverage required by law leaves most drivers woefully underinsured.
Looking beyond your state's law, consider your assets, or what you stand to lose, in the event of a costly judgment against you following an accident. The gap between what the judgment demands and what your liability auto insurance will cover is entirely your responsibility. To execute that judgment, the court can seize your investments, your vehicles, and even your home. Consider these risks before you opt for bare-bones liability only car insurance. The more you have to lose, the higher your liability insurance limits should be.