Cheap GA Auto Insurance Quotes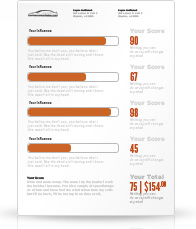 Georgia sits in the southeast region of the United States, and is the largest state east of the Mississippi River when measured by landmass. The most populated city by far is Atlanta, with Augusta in second place. The northern section of Georgia enjoys the beauty of the Blue Ridge Mountains while the southern region borders Florida and the Atlantic Ocean. Georgia is notorious for its natural beauty, with many unique species of plants and animals that grace the 63 parks located within the state lines. Georgia has been steadily growing since the first recorded census of 1790, making the state an exciting home to many.
When spending any amount of time in Georgia, it is vital to be protected on the roads and elaborate freeway systems. The easiest way to do this is with quality Georgia car insurance. We have provided many Georgia auto insurance quotes, and we encourage you to get yours as well! We have made it extremely easy to get the best protection available, through reputable nationwide providers. Should you require any assistance, please call us at the number listed at the top of the page. Don't leave anything to chance, experience the peace of mind that comes from knowing you are covered at all times while on the streets or freeways in Georgia!
To make your shopping experience even easier, we have included the contact information for some of the most reputable Georgia car insurance agents in your area. All you need to do is choose your county in the dropdown menu below, and then find your city. As if you needed another reason to get covered, we encourage you to take a look at the statistics we found on Georgia traffic patterns. This knowledge will help you make an informed decision when it comes to protecting you and your family. Thanks for visiting carinsurancerates.com, your ultimate resource for Georgia car insurance quotes.
Georgia Population Data
At-a-Glance
| | |
| --- | --- |
| 9,815,210 | total population |
| 35 | average citizen age |
| 96 | males per 100 females |
| 5 | number of cities with > 100,000 residents |
| Atlanta | largest city in the state |
Vital Georgia Insurance Facts
Now is your chance to see how Georgia stacks up to other states when it comes to car insurance rates and other aspects associated with driving. You can save time and money by having a firm grasp on the state laws and regulations.
Average Annual Georgia Insurance Premium Payment
$1,764
About $147.00/Month. Georgia ranks as the 11th most expensive state for car insurance in the United States
Is This an At-Fault or No-Fault State?
No-Fault
State Minimum Coverage Requirement
25/50/25
Injury Liability Per Person / Injury Liability Per Accident / Property Damage
*Units in Thousands of Dollars
Estimated Uninsured Population (%)
16%
Or About 1,570,434 Uninsured Drivers in the State of Georgia
GA Licensing Rules & Regulations
In our effort to create the most thorough online car insurance resource available, we have included useful information pertaining to each state in the union. Learn more about Georgia licensing rules and laws to ensure you are in compliance. You will save money over the course of your insurance policy and protect yourself in the meantime!
Learner's Permit
15 Years
Unrestricted License
18 Years
Renewal Frequency
510 Years
Safety Requirements, Handheld Devices in Georgia
You may be tempted to use your handheld device while driving. In our fast paced environment, we often try to be as productive as possible. Resist the urge to multitask while driving and use the appropriate safety devices such as seatbelts to protect yourself.
Seatbelt Offenses
Primary
Motorcycle Helmets
All Ages
Text-Messaging Banned?
Yes
Georgia Impaired Driving Laws
Those who are caught driving drunk are subjected to huge fines and possible jail sentences. Do not fall into the trap of driving under the influence of drugs or alcohol. Use our latest Georgia DUI information below to avoid getting into unnecessary trouble with the law.
Financial Penalty Estimate
$300-$1,000
Minimum License Suspension
12 Days
Maximum Jail Sentence
365 Days