Find Low Rates On Auto Insurance In Florida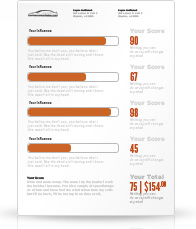 With its warm climate, dazzling coastlines, and beautiful scenery, Florida remains a popular place to vacation, live, and retire. In the contiguous United States, Florida has the longest coastline, spanning roughly 1,350 miles. While Florida ranks 22nd in the country in size, it is the fourth most populous state in the U.S.-more than 18.5 million people call Florida home. Florida has a nice mix of small towns and sprawling urban areas. Its largest city is Jacksonville, followed by Miami, Tampa, and St. Petersburg. With so many people living in a relatively modest space, Florida's roads are especially prone to traffic congestion. If you are a resident of Florida, protect yourself from the perils of the road with a top-notch Florida auto insurance policy.
A Florida car insurance policy will give you peace of mind as a driver and allow you to comply with the state auto insurance laws. Whether you're searching for your first Florida auto insurance policy or are simply looking for a new carrier, this is the place to do it. We provide one-stop-shopping for drivers in need of Florida auto insurance quotes. When you select your town or county from the dropdown menu below, you will see free customized Florida car insurance quotes on the coverage you need. These quotes will not cost you a dime, nor are you under any obligation for viewing them. We have teamed up with the most respected insurers around to bring you the most competitive quotes on Florida auto insurance online.
Most of our visitors like to conduct some research before purchasing a Florida car insurance policy. If that is the case for you, you will not find a site with more comprehensive and relevant information on Florida auto insurance policies. We have done all the research for you, from explaining Florida car insurance laws to reviewing national providers. Whatever you would like to know before you request your free Florida car insurance quotes, you can find in seconds on this page. Read on to see the information we have to offer and request your complimentary quotes by using the dropdown menus anywhere on this page. If you have questions, you can get a hold of us using the toll-free number provided at the top of the page.
Florida Population Data
At-a-Glance
| | |
| --- | --- |
| 19,057,542 | total population |
| 40 | average citizen age |
| 95 | males per 100 females |
| 18 | number of cities with > 100,000 residents |
| Jacksonville | largest city in the state |
Vital Florida Insurance Facts
If you spend any amount of time on Florida roads, be sure to read our informative information about state auto insurance trends. We are confident you will find the information useful when searching for a lower rate or a different car insurance policy.
Average Annual Florida Insurance Premium Payment
$2,094
About $174.50/Month. Florida ranks as the 4th most expensive state for car insurance in the United States
Is This an At-Fault or No-Fault State?
No-Fault
State Minimum Coverage Requirement
10/20/10
Injury Liability Per Person / Injury Liability Per Accident / Property Damage
*Units in Thousands of Dollars
Estimated Uninsured Population (%)
24%
Or About 4,573,810 Uninsured Drivers in the State of Florida
FL Licensing Rules & Regulations
See how Florida compares to other states when it comes to license requirements and renewal periods. Learn more about driving restrictions for younger drivers. We make it easy to stay current with our state insurance information.
Learner's Permit
15 Years
Unrestricted License
18 Years
Renewal Frequency
8 Years
Safety Requirements, Handheld Devices in Florida
These days, the majority of drivers also use handheld devices on a regular basis. Most states have rules in place to regulate usage while operating a vehicle. Make sure you are not breaking the law at any point. Learn more about Florida safety requirements below.
Seatbelt Offenses
Primary
Motorcycle Helmets
20 and Under
Text-Messaging Banned?
No
Florida Impaired Driving Laws
In recent years, the penalties for driving under the influence are much harsher than before. You should take the necessary precautions to avoid being caught drinking and driving. Use a designated driver or call a cab if you are questionable. For the time being, take a look at the most recent Florida impaired driving laws and regulations.
Financial Penalty Estimate
$250-$500
Minimum License Suspension
12 Days
Maximum Jail Sentence
180 Days