The Best Connecticut Car Insurance Rates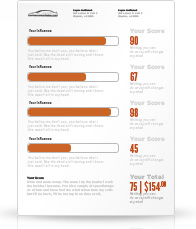 While Connecticut is officially known as "The Constitution State," it is also colloquially referred to as "The Nutmeg State." The latter nickname likely derived from the arrival of sailors to ports in the area bringing nutmeg, a once highly valuable spice. Connecticut is the third-smallest state in the country but has the third-largest median income. The state's major cities include Bridgeport, Hartford, and New Haven. Because its population of 3.5 million residents is concentrated on such a small area of land, Connecticut is one of the most densely populated states in the nation. Perhaps the dense concentration of the state's population is why Connecticut also consistently ranks among the top ten states for highest auto insurance premiums. However, that does not mean that an affordable Connecticut auto insurance policy is out of reach.
By shopping on CarInsuraceRates.com, you can take advantage of the competitiveness of the online marketplace to find the most reasonably priced, top-quality Connecticut car insurance policy. Whether you're ready to buy or are simply conducting research into coverage possibilities, everything you will need is right here. The links and information available on this page allow you to research Connecticut auto insurance guidelines to help you design the ideal policy, and you can also read reviews of carriers that offer coverage in your state. Once you're ready to begin comparison shopping, you can request free Connecticut car insurance quotes using the dropdown menu toward the bottom of the page.
Once you select your county or city from the menu, we will identify four or five providers that can offer you competitive Connecticut auto insurance quotes. These quotes are reasonably priced, offer exactly the coverage you want, and come with no strings attached. If any of the Connecticut car insurance quotes appeals to you, you can pursue a policy on the provider's Website. If you need more time to think, you are also free to save your quotes on Connecticut car insurance and return once you've had time to think it over. Remember, we are always here to help if you have questions or concerns. We can be reached at the number listed at the top of this page. Retrieve your free offers on Connecticut car insurance by signing up for quotes today!
Connecticut Population Data
At-a-Glance
| | |
| --- | --- |
| 3,580,709 | total population |
| 40 | average citizen age |
| 95 | males per 100 females |
| 5 | number of cities with > 100,000 residents |
| Bridgeport | largest city in the state |
Vital Connecticut Insurance Facts
When driving in Connecticut, make sure you have a firm grasp on the different requirements and rules concerning auto insurance. You can save yourself headaches down the road by taking a couple of minutes to read our collection of local insurance facts.
Average Annual Connecticut Insurance Premium Payment
$1,076
About $89.67/Month. Connecticut ranks as the 39th most expensive state for car insurance in the United States
Is This an At-Fault or No-Fault State?
No-Fault
State Minimum Coverage Requirement
20/40/10
Injury Liability Per Person / Injury Liability Per Accident / Property Damage
*Units in Thousands of Dollars
Estimated Uninsured Population (%)
10%
Or About 358,071 Uninsured Drivers in the State of Connecticut
CT Licensing Rules & Regulations
Each state differs in the area of licensing rules and regulations. Compare and contrast Connecticut with other states to see where it sits in the spectrum. Be sure to adhere to the laws of the land when driving in this state.
Learner's Permit
16 Years
Unrestricted License
18 Years
Renewal Frequency
46 Years
Safety Requirements, Handheld Devices in Connecticut
Many drivers on the road these days are distracted by handheld devices and the urge to communicate through text messages. Be sure to know the consequences of using a handheld device in Connecticut and be sure to utilize all of the necessary safety requirements such as seatbelts and helmets when applicable.
Seatbelt Offenses
Primary
Motorcycle Helmets
17 and Under
Text-Messaging Banned?
Yes
Connecticut Impaired Driving Laws
You have seen the frightening DUI commercials on television. Be sure to fully comprehend Connecticut impaired driving laws and penalties before putting yourself in the situation to receive a citation. You can save yourself time and money by adhering to the specific rules put in place to protect drivers.
Financial Penalty Estimate
$500-$1,000
Minimum License Suspension
12 Days
Maximum Jail Sentence
180 Days