Comprehensive Insurance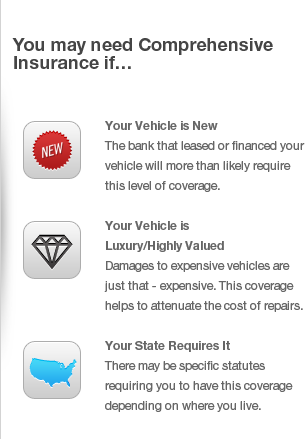 Because they both protect the insured's vehicle from various losses, collision coverage and comprehensive coverage are often lumped together. In reality, though, the two coverages serve quite different needs. Comprehensive auto insurance reimburses the policyholder for vehicle repairs stemming from a non-collision-related covered loss. In other words, the vehicle sustained some sort of damage not caused by another vehicle or object. Although comprehensive is an optional coverage, most drivers choose to include it in their policies for reasons that follow.
Comprehensive Insurance Definition: What Does It Cover?
The primary losses or disasters comprehensive insurance covers include fire, theft, vandalism, accidents involving wild animals, and "acts of God." Typically, the "acts of God" category includes disasters like hail damage, wind damage, flooding, and other weather-related events. Additionally, comprehensive auto coverage would apply if a tree fell on your vehicle, for example. When such events occur, there is no other party to hold responsible or to sue, so the driver's own policy must pay for the damage. With all comprehensive insurance coverage, your insurer will deduct the amount of your deductible from the settlement amount you receive. The most common deductibles range from $500-$1000.
Is Comprehensive Car Insurance Necessary?
Legally, comprehensive auto insurance is not required. Comprehensive protects the insured's own car, and most state insurance laws require only liability coverage, which protects the property of others. However, comprehensive coverage may still be mandatory for some drivers. If you lease or finance your vehicle, for example, your leasing or loan company may require that you purchase both collision and comprehensive car insurance in order to qualify. Typically, you must show proof of both before the lender or lessor will approve the transaction.
While comprehensive auto coverage is not necessary in many cases, the majority of policyholders will benefit significantly from carrying the coverage. To decide whether comprehensive insurance is a sound investment for you, you need to consider your price sensitivity as far as the level of your premiums is concerned in addition to the worth of your vehicle. If you can only afford to purchase the bare minimum of coverage required by law, you might opt to dispense with comprehensive coverage in the interest of keeping your premiums as low as possible. If you do so, however, keep in mind that you would have to pay for the damage to your vehicle from any of the events described above out of pocket, which would be even more cost-prohibitive.
Lastly, comprehensive auto insurance makes the most sense for vehicles with a significant amount of cash value. Drivers with new or expensive vehicles should always carry comprehensive insurance, whereas drivers with older vehicles with little or no cash value are better off passing on the coverage. You can determine the actual cash value of your vehicle from a Blue Book type guide before deciding whether comprehensive car insurance is worth it.