Bundling Auto and Home Insurance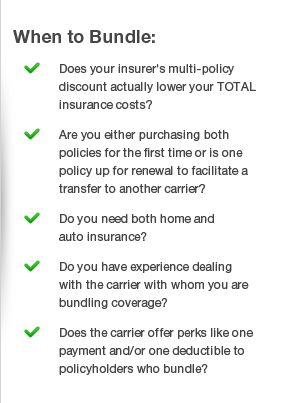 Purchasing your home and auto insurance from the same carrier is potentially a very lucrative decision. It is not uncommon for insurers to offer multi-policy discounts, or the discounts offered to customers who bundle two or more types of coverage, of up to 25 percent. Such generous discounts can substantially reduce your overall insurance expenses. On the other hand, an auto and home insurance bundle is not always the right decisions. In certain circumstances, you might actually be better off keeping your policies with separate insurance carriers.
Benefits of the Auto Home Insurance Bundle
By far, the most compelling advantage to a car and home insurance package is the potential discount. The average multi-line, or multi-policy discount, averages at about 20 percent for most major carriers. Earning the discount also takes relatively little effort - all you have to do is either purchase home and car insurance at the same time or move a policy to another carrier.
Additionally, a home auto insurance bundle makes policy management and premium payment far easier. Typically, insurers allow customers with multiple policies to make one simple monthly or annual payment and choose a common deductible. Keeping track of your premiums and coverage levels is much more convenient as a result.
Drawbacks of Home and Car Insurance Bundles
Certainly, bundling home and auto insurance is not without its disadvantages. For one, despite the generous multi-policy discount, you still might end up paying more for auto and home insurance if you bundle than if you keep your coverage separate. This may happen when your carrier's multi-policy discount is not large enough to outweigh the lower premiums you might enjoy with a separate carrier. For this reason, it's important that you calculate your total annual home and car insurance expenses under all possible scenarios, bundle or no bundle.
Further, some policyholders make the mistake of bundling car and home insurance without considering the carrier's reputation for quality for both types of coverage. For example, say you select a carrier with a sterling reputation for high-quality, low-cost auto insurance. The carrier offers you a discount of 25 percent if you transfer your home insurance coverage to them as well, but you know this insurer has a less-than-ideal reputation for homeowner's insurance. In this case, if you were to bundle, you would have to sacrifice the quality of your home insurance coverage in the interest of the multi-line discount, which is usually a poor choice.
When to Bundle Car and Home Policies
If you've decided to bundle auto and home insurance, timing is everything. If you happen to be buying both types of coverage simultaneously, then you can easily bundle them with one carrier at the time of purchase. On the other hand, if you already have a car or home insurance policy with another carrier, you will need to wait until the coverage is up for renewal before you bundle both coverages with your new carrier. Be sure to inform your old carrier that you will not be renewing your policy in advance and also make sure you do not have any gaps in coverage when you transfer the coverage to your new insurer.