Alabama Car Insurance - Find AL Auto Insurance Quotes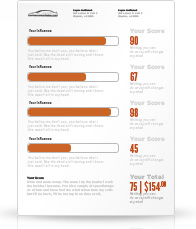 Located in the Southeastern area of the United States, Alabama is located just north of Florida and the Gulf of Mexico. Only one other state has more of its land mass attributed to inland waterways, meaning that there are plenty of rivers to visit in the state. It gets its name from a southern Indian tribe that resided in the central area of the state. Unofficially, the state is referred to as the Yellowhammer State, named after the state bird. It is also known as the "Heart of Dixie." The most populous city in the state is Birmingham, and the capital is Montgomery. The state flower is the Camellia, and the state tree is the Longleaf Pine. The economy of the state is heavily driven by education, technology, manufacturing, and mining, as well as the US Air Force and the US Army. The state has hot summers and mild winters, as well as a great deal of precipitation year round.
The Alabama Department of Transportation reports that there is an accident in the state every 255 seconds, and that drivers have almost a fifty percent chance of having an accident that results in injury at some point in their lifetime. With this in mind, it is important to ensure that you have valid Alabama car insurance. Not only will a good Alabama auto insurance company allow you to legally drive, it will protect your financial situation from falling into a state of disrepair as a result of a car collision. It doesn't matter if you are looking for a basic policy just to ensure that you are legal to drive, or if you are searching for a full-coverage policy that will protect you from the damages that you could inflict on your own property. Either way, you can find what you need right here. All the data that you need to find Alabama auto insurance can be found here, from what each of the providers has to offer to what the minimum requirements of the state of Alabama are.
Once you have decided what you need from an insurance policy, you can start looking at Alabama auto insurance quotes by choosing your location information at the bottom of this page. The results will display specific offers in your area, allowing you to find the best deal. The Alabama car insurance quotes are available for you to view at no cost, and they will not commit you to signing up for anything. You have the option of either saving the quotes for later viewing, or moving forward to sign up for a policy. If you have any questions, contact us at the toll-free number found on the bottom of the page and we will be happy to help you.
Alabama Population Data
At-a-Glance
| | |
| --- | --- |
| 4,802,740 | total population |
| 37 | average citizen age |
| 93 | males per 100 females |
| 4 | number of cities with > 100,000 residents |
| Birmingham | largest city in the state |
Vital Alabama Insurance Facts
We have made it easy to browse pertinent insurance facts and statistics for the state of Alabama. This can save you a bunch of time and money when evaluating your current policy or electing to purchase a new one.
Average Annual Alabama Insurance Premium Payment
$1,450
About $120.83/Month. Alabama ranks as the 16th most expensive state for car insurance in the United States
Is This an At-Fault or No-Fault State?
No-Fault
State Minimum Coverage Requirement
50/100/25
Injury Liability Per Person / Injury Liability Per Accident / Property Damage
*Units in Thousands of Dollars
Estimated Uninsured Population (%)
22%
Or About 1,056,603 Uninsured Drivers in the State of Alabama
AL Licensing Rules & Regulations
Whether you are an adult driver or a teen counting down the days until you are able to drive solo, the licensing rules of Alabama will affect you in one way or another. We encourage you to get to know the rules and regulations before operating a vehicle in the state.
Learner's Permit
15 Years
Unrestricted License
17 Years
Renewal Frequency
4 Years
Safety Requirements, Handheld Devices in Alabama
As most people know, items such as cell phones can be distracting to drivers. Different states have unique laws when it comes to safety requirements and handheld device usage while driving. Make sure you are familiar with regulations in Alabama before driving.
Seatbelt Offenses
Primary
Motorcycle Helmets
All Ages
Text-Messaging Banned?
No
Alabama Impaired Driving Laws
If you drink and drive, the consequences could be devastating. We have compiled a list of standard (but subject to change) penalties and fines for being caught under the influence while operating a moving vehicle in the Heart of Dixie. Make sure you are aware of the standards put in place to minimize your chances of being caught.
Financial Penalty Estimate
$600-$2,100
Minimum License Suspension
90 Days
Maximum Jail Sentence
365 Days